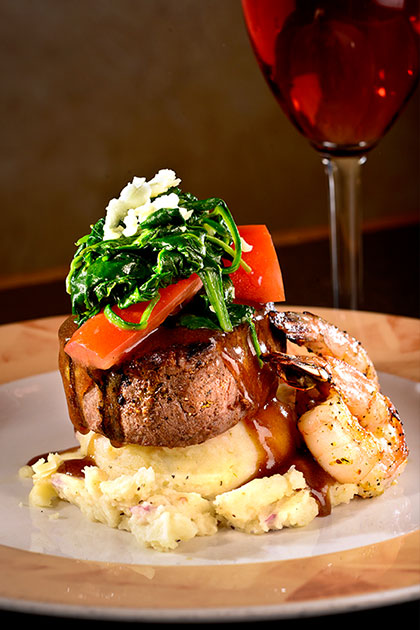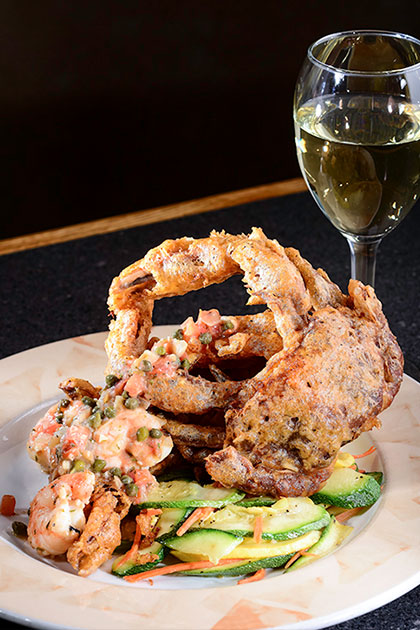 For over a decade, Kathryn's Bistro and Martini Bar  has been providing Emerald Isle diners with expertly crafted cuisine. Voted #1 Fine Dining on the Crystal Coast five years in a row, Kathryn's remains Emerald Isle's premier restaurant, drawing praise from both traveling visitors and grateful locals alike.
Kathryn's strives to provide diners with creative selections, featuring fresh, local seafood and Certified Angus Beef. This year Kathryn's introduces the addition of Slow Braised CAB Boneless Short Ribs. Together with existing beloved entrées such as the cold water lobster tail, the Carolina Classic (Kathryn's take on shrimp and grits), and Maryland Crab Cakes, Kathryn's menu is sure to provide an unrivaled Crystal Coast dining experience.
In addition to the menu, Kathryn's offers nightly features, including innovative creations of locally sourced grouper and soft shell crabs, as well as filet mignon paired with a variety of seafood accompaniments.
The upscale menu selections are not the only reason people keep coming back – Kathryn's has become Emerald Isle's favorite place to enjoy a martini. Housing over 30 different variations of martinis, including both exotic concoctions and the traditional favorites, you are sure to find something to suit your fancy. Kathryn's offers an extensive selection of wines by the glass and bottle at a great value.
Owners Ken and Kathryn Ayre are thrilled to continue offering superior food alongside unparalleled employees. "The expertise and loyalty of our team has contributed greatly to our long term success," says Ken, who is very grateful for his employees – many of whom have been part of the team since the doors opened in June 2004.
More than ten years later, the family business is still first-class all the way. The combination of the relaxed, yet elegant atmosphere, superb food, and dedication creates a dining experience you do not want to miss!
Telephone: 252.354.6200
Fax: 252.354.9555
8002 Emerald Drive Emerald Isle, NC 28594